If you're in the business of keeping a warehouse, there are specific tools and equipment you can't do without. However, knowing which tools you need can take time and effort. To help make sure your warehouse runs smoothly, this guide will give you an overview of the most critical items you should have on hand.
Invest in a property that meets your needs
The first step is to find a property that's the right size for your business and has all the features you need. You need to consider the necessary elements to avoid spending more on renovations or taking up space you don't need. So, create a list of the features you'll need in your warehouse before you begin the property search.
For example, suppose you're planning on storing heavy or oversized items. In that case, you'll need a facility with high ceilings and strong floors that can support the weight. You'll also want to ensure the property is located in an accessible area with good road links to allow easy transportation of goods in and out.
By assessing your needs and researching, you can ensure that your chosen property meets all your requirements. A good location can help you attract more customers and give your business an edge over the competition.
Stock it with security features
Once you've found the perfect property, it's time to start kitting it out with all the security features you need to protect your stock. Especially today, when theft prevention and surveillance are more crucial than ever, ensuring your warehouse is secure is essential.
A wide range of products suits every budget, from simple CCTV systems to motion-activated lights and alarms. Depending on your needs, you should invest in a complete security system with one or more features. Having reasonable security measures will give you peace of mind and protect your business.
Investing in a good security set-up will not only help to deter thieves, but it will also give you peace of mind knowing that your stock is safe and sound.
Get the right shelving and storage solutions
Your choice of shelving and storage solutions will depend on the type of goods you plan to store in your warehouse. Unless you're storing items that don't require special handling, you'll want to invest in the proper shelving and storage solutions.
For example, if you're dealing with perishable items, you'll need to invest in refrigerated units or temperature-controlled storage space. If you're dealing with large or delicate items, consider investing in racking or mezzanine floors to maximize space and reduce the risk of damage. Whatever type of shelving and storage you choose, make sure it's fit for purpose and can accommodate any future expansion plans.
Invest in labor-saving equipment
Lastly, invest in labor-saving equipment to make life easier for your team. For instance, if you're handling large or bulky items, investing in a Forklift truck will make moving them around much easier (and safer). Alternatively, if you're dealing with many small items, investing in packing machines or conveyor belts can help speed up packing and unpacking times.
Many modern warehouses are now primarily composed of stainless steel, durable, easily repairable, and resistant to many corrosive materials. However, labeling this material can be tricky, so it's worth investing in stainless steel marking to ensure that everything is clearly labeled and easily located.
Investing in some key equipment can make life much easier for your team — and help maximize efficiency levels in your warehouse operation.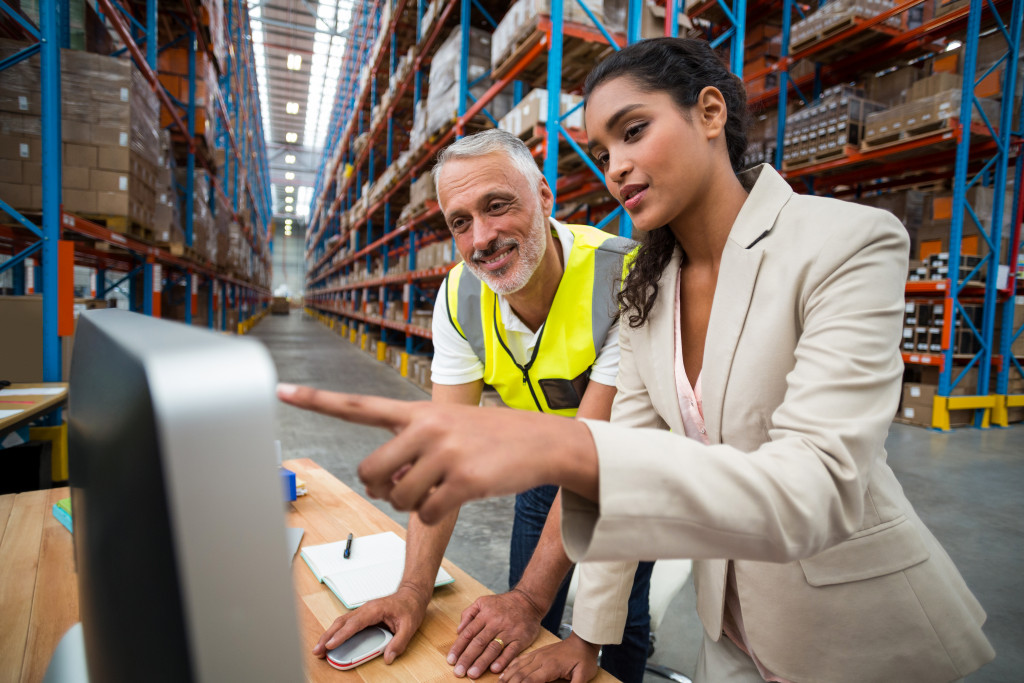 Know the regulations
Finally, you must ensure you're up to date with any relevant regulations or laws that might affect your warehouse business. Many countries have regulations to ensure that warehouses are safe and secure, so ensure you're aware of any local or national laws that apply to your business.
You can also look into obtaining insurance for your warehouse, as this will provide you with some protection in the event of any accidents or losses. You should also be aware of specific regulations that apply to the goods you're storing or distributing, as these can vary depending on the industry. By simply familiarizing yourself with the relevant regulations, you can ensure that your warehouse is safe, secure, and compliant.
Investing in a warehouse business can be a significant undertaking — but if done correctly, it can be a very lucrative venture. By keeping the above essential investments in mind, you can set yourself up for success from day one — giving your business the best chance to thrive long into the future.