There are times you get caught up too deep in a book that you barely realize you've spent three-quarters of a day curled up in your bed. Unfortunately, this spells disaster for your schedule. This fact is especially true if you are not mainly known to be good at self-restraint.
So, what if there are side hustles and full-time businesses you can do that will let you enjoy your hobby? Minus the guilt, of course. If you think this is a good idea, read on to find examples that might be feasible for you.
1. Audiobook Recording
This is something you will find easy and enjoyable if you like reading books out loud. Some people find it difficult to process words and sentences if they don't hear them, so they end up reading to themselves. The same people are the target market for audiobooks. If you decide to pursue this track, you help yourself while you earn and help your fellow readers.
Audiobook recording is pretty straightforward. There are websites where you can sign up as an audiobook narrator. Once you get in, you can choose your first project. Usually, there is a set price for every book. The amount you get for finishing a recording usually depends on the requirements of the book. There could be statements in a foreign language and multiple characters.
You don't have to invest in expensive equipment upfront. If you don't have the budget to create your recording studio, a closet is suitable for recording. On the other hand, if you're not confident, you can rent a recording studio (although that can cost you a pretty penny).
2. Online Library
As more modes of reading come up, you will find more businesses ideas around you. Setting up an online library will cater to fans of e-books. Some still love collecting physical copies of books, while others prefer the portability and affordability of e-readers.
An online library is a place where people can buy digital copies of books. You can charge them a subscription fee for unlimited access to books. Or they can pay for their reads individually. Set out more benefits for online membership, so more people would opt for that.
To be successful at this, you need to have a solid marketing strategy. That means you'll need an optimized website tailored specifically to e-book fans. Tap into online reading communities and book clubs to get the word out about your business. You can also do promo bundles according to authors or genre and hold online reading events.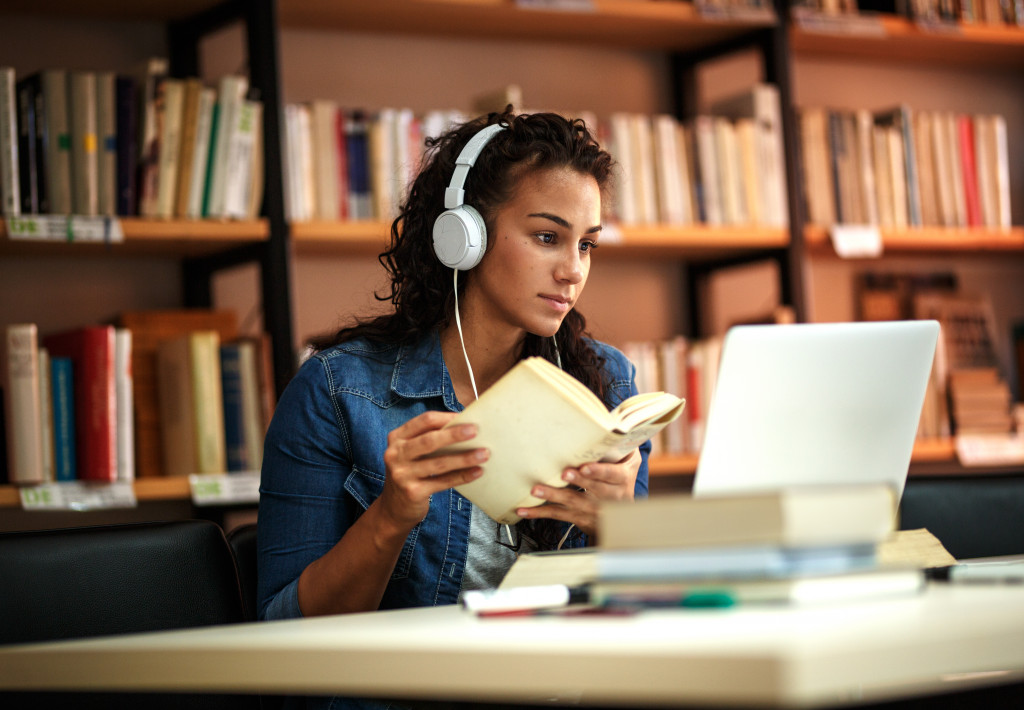 3. Book Illustration
If you are neck-deep into the arts and you both love books and have a talent for drawing, this one is for you. There is a good market for book illustrators, especially in the freelancing industry. As an artist, it would be a total delight to read a book and draw its cover.
You can start as a freelancer until you build an entire network to make it a full-time business. The book illustration industry pays well, and there are lots of clients. If you are into children's books, that is a whole market in itself.
4. Proofreading and Editing
From manuscripts to actual printed copies, some books have errors in them. And if you are one to have an eye for such mistakes, this might be a good side hustle for you. It won't take much of an effort to do this.
You will be reading a book like you always do. However, you edit the mistakes and errors this time instead of just getting annoyed and skipping past them.
Many writers need to have someone else read their manuscripts to see mistakes. Often, when you've read one material over five times, your eyes fail to catch what they should be noticing. You can get clients on freelancing sites like Upwork, Fiverr, or Freelancer. Getting editing jobs can get a little tricky, especially because you have to study the writer's style to make sure you're making the correct adjustments.
5. Book Blog
Some people don't simply get over a book once they close the last chapter. If you are one of these people, writing about your thoughts on the book could help. At the same time, it could also be a source of income.
There are many ways to do this, and one of them is by writing. To help you process your feelings after a book, type them in on your computer and upload it to your blogsite. You can also do this through YouTube, which has become a good source of income for many. Many people look for book reviews before starting reading, so there is a market for this business.
There is nothing like doing your favorite thing in the world and earning from it. If you want that kind of life, try looking into these ideas and see what will work for you.